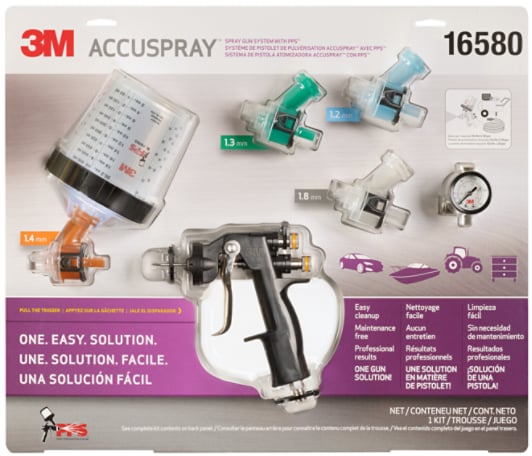 ONE gun meets all of your spraying needs
An all-in-one solution for mixing/measuring, filtering and spraying of liquid coating materials
Replaceable atomizing heads afford the performance of a brand new gun on demand
Selection of atomizing heads allows for spraying of primer, sealer, base and clear coat
PPS™ reduces cleaning solvent consumption up to 70% and reduces prep and clean-up time by 50%
Kit includes Accuspray™ ONE Spray Gun, atomizing heads, hard cup, lids, liners and more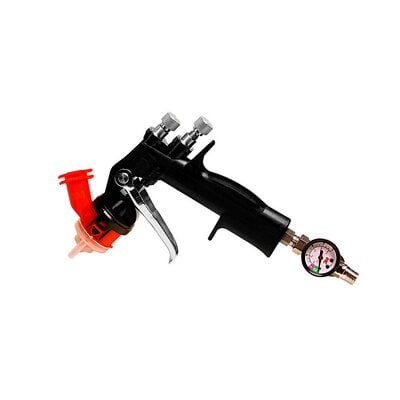 The 1-pc. Accuspray™ ONE spray gun eliminates cleaning of small parts and pieces
ONE System for Every Spraying Need
An all-in-one solution for mixing/measuring, filtering and spraying of primer, sealer, base and clear coat, our 3M™ Accuspray™ Spray Gun System with Standard PPS™ is a combination of convenience, versatility and efficiency. This system features the Accuspray™ ONE Spray Gun – a lightweight, composite spray gun body that is molded in one piece, eliminating the complexity, wear and cleaning of small parts and pieces. The spray gun uses a series of replaceable, transparent atomizing heads which can be reused 5-10 times and then simply removed and replaced. This affords the performance of a brand new spray gun, on demand and at a fraction of the price.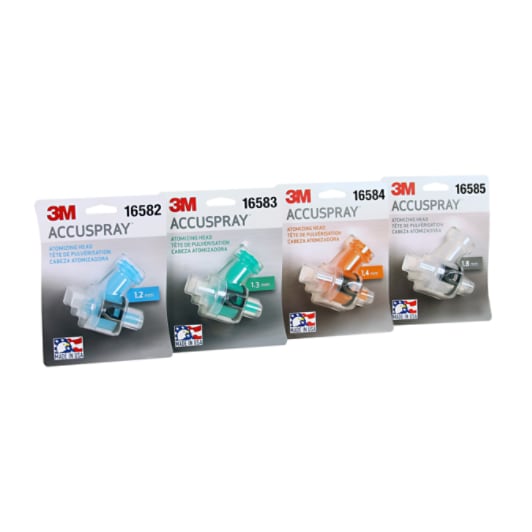 Replaceable, disposable atomizing heads deliver the performance of a new spray gun, on demand
Atomizing heads are available in 1.3 mm and 1.4 mm sizes for sealers, primer surfacers, basecoats and topcoats; a 1.8 mm size for higher-viscosity materials such as primer and gel coats; and a 2.0 mm size for heavy-duty applications using fluids like adhesives, undercoats or industrial coatings. And fast, easy controls for fan diameter, fluid and air pressure allow for quick adjustment across jobs from spot repairs to full panel coverage requiring up to 12″ vertical or horizontal spray patterns. This equipment works with our Standard PPS™ system of reusable paint cups and disposable lids and liners, so you can be done with cleaning paint cups forever. ONE gun — ONE system for a complete range of applications.